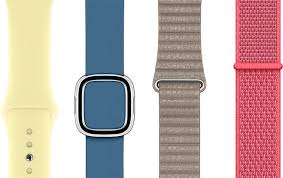 No one will deny that smart watches are finally here! The Apple Watch was the first to hit the market by storm, and indeed, included top functionalities to sweep any fashion forward individual off their feet. However, Apple's efforts notwithstanding, there are many skeptical minds about the entire smart watch concept.
Understand the Device
Encountering the device on the face value can sometimes seem like a redundant purchase. However, once you use it for some considerable amount of time, both you and the watch begin developing synchrony. It is often at this point that users start shopping for comfortable Apple watch bands.
Unfortunately for companies such as Apple selling smart watches, consumers do not get the opportunity to try out those products before purchasing. It is therefore important for prospective consumers to understand the real world advantages of using a smart phone.
Notifications
The world is practically about getting notified. Whether you have scheduled different business appointments for the day, a text message of a fire alert from your smart home security and many more including incoming phone calls; you can have all of them sent to your wrist. For the preponderance of consumers, notifications come as the number one reason they would buy an Apple watch.
It is quite convenient having all those alerts identified without having to dip into your pockets or bags to get the phone. This is quite invaluable for most people who do not want to get distracted or distract others by checking into their bags or pockets. Apart from making life simple, it goes a long way to save time. And you do not need to be reminded the importance of time in the current society.
Social Etiquette
Smart watches have gone a long way to enhance social etiquette, especially in terms of using phones. You are probably attending an important one on one meeting with a prospective business partner. They are placing an order for thousands of products from your company. Ideally, checking your phone is going to seem rude.
But what if you have another important email you are waiting for, from another prospecting client with another order? Well, there is a simpler way to do it without annoying the guardians of social etiquette who might convince your client to ditch the deal. Replace checking the phone by giving a quick glance at your wrist. This is more refined and much simpler.
Leverage On IoT
Today, it is not uncommon to control the volume of your stereo sound system just by a few taps on the wrist! And you do not need your smart phone to turn Hue lights on and off. In other words, this is quicker than reaching for the phone. The options for Smart Home Tech and the Internet of Things continue expanding. In the face of all this expansion, you can use a smart watch to enhance convenience of control.
Before you underestimate smart watches, take time to understand its solid benefits. There are tens of other reasons consumers are buying the devices across different regions. You can make the experience trendier by wearing different fashionable Apple watch bands to match your style for the day.