This is our weekly selection of recently published studies and reviews in nutrition. Here are some of the most interesting findings this week:
Children who eat faster tend to eat more and gain weight.
Supplementing with genistein, a soy isoflavone, may improve insulin sensitivity.
Following a calorie-reduced diet for an extended period may reduce food cravings.
Eating probiotic yogurt may improve immune function, potentially reducing the risk of infection.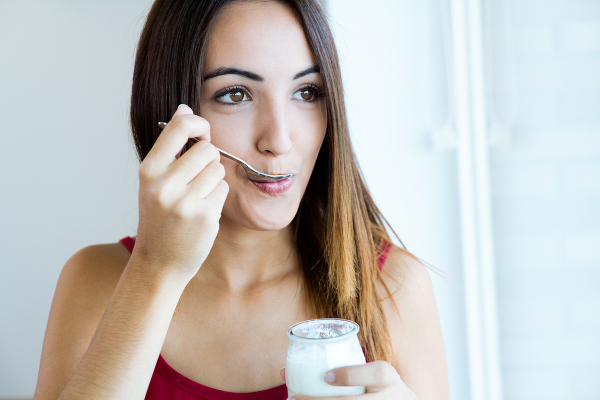 New Research From Around the World
Lots of recent papers came to our attention this week. Here are summaries of the most interesting or relevant studies, categorized by subject.
---
1. Obesity and Weight Loss
Faster eating rates are associated with higher energy intakes during an ad libitum meal, higher BMI and greater adiposity among 4·5-year-old children: results from the Growing Up in Singapore Towards Healthy Outcomes (GUSTO) cohort.
This observational study in Singaporean children showed that those who ate faster had a higher calorie intake and tended to have a higher body mass index and fat mass, compared to children who ate slower.
Specifically, children who ate faster had a 75% higher calorie intake than those who ate slowly.
---
Subcutaneous fat loss is greater than visceral fat loss with diet and exercise, weight-loss promoting drugs and bariatric surgery: a critical review and meta-analysis.
This meta-analysis concluded that all weight loss methods, including dietary modifications, pills like garcinia cambogia, exercise, supplements or bariatric surgery, cause a greater loss of skin fat than belly fat when measured by volume or weight.
However, the percent decrease in belly fat is always greater than the percent decrease in skin fat.
---
2. Blood Sugar Control and Diabetes
Genistein supplementation improves insulin resistance and inflammatory state in non-alcoholic fatty liver patients: a randomized, controlled trial.Genistein
is an antioxidant isoflavone found in high amounts in soybeans and soy products.
This controlled study in 82 adults with non-alcoholic fatty liver disease (NAFLD) showed that taking 250 mg of genistein supplements daily for 2 months reduced insulin resistance and markers of oxidative stress and inflammation.
---
3. Heart Health
Alcohol consumption and risk of heart failure: meta-analysis of 13 prospective studies.
Heart failure occurs when the heart is not able to pump enough blood throughout the body to meet the body's needs. Previous studies have provided inconsistent results on the association between alcohol intake and heart failure.
This analysis of 13 observational studies found that light alcohol intake was linked to a 14% lower risk of heart failure, whereas higher intake was not associated with it.
---
Association of dietary nitrate with atherosclerotic vascular disease mortality: a prospective cohort study of older adult women.
Atherosclerosis
(AS) is a disease of the arteries, which are the blood vessels that carry blood from the heart. Previous studies show that nitrate-rich vegetables improve the health of blood vessels, including the arteries, but it is unknown if they affect AS.
This prospective observational study in 1,226 older Australian women showed that a high intake of nitrate-rich vegetables was associated with a lower risk of death from atherosclerosis.
---
4. Cancer
Inflammatory diet and risk of colorectal cancer: A population based Case-Control Study in Newfoundland, Canada.
The Dietary Inflammatory Index (DII) rates the inflammatory potential of a diet. Some foods may be pro-inflammatory, whereas others may be anti-inflammatory or neutral.
This observational study in Canadian adults found that following a pro-inflammatory diet, which ranked high on the DII, was linked to an increased risk of colorectal cancer.
---
5. Appetite and Eating
Extended calorie restriction suppresses overall and specific food cravings: a systematic review and a meta-analysis.
This review and meta-analysis concluded that following a calorie-reduced diet for an extended period reduces food cravings.
---
6. Brain and Mental Health
Citrus consumption and incident dementia in elderly Japanese: the Ohsaki Cohort 2006 Study.
This observational study in 13,373 older Japanese people showed that those who ate citrus fruits 3–4 times per week were 8% less likely to develop dementia than those who ate citrus fruits two or less times per week.
---
Effect of maternal antenatal and newborn supplementation with vitamin A on cognitive development of school-aged children in rural Bangladesh: a follow-up of a placebo-controlled, randomized trial.
This controlled study in Bangladeshi mothers and their children showed that taking vitamin A supplements during pregnancy and around birth had no significant effects on the children's intelligence or memory at the age of eight.
However, children who were exposed to vitamin A supplements as newborns and while still in the womb were significantly better at reading, spelling and math, compared to the placebo.
---
7. Digestive Health
Association between coffee or tea drinking and Barrett's esophagus or esophagitis: an Italian study.Barret's esophagus
(BE) is a complication of chronic acid reflux. It is characterized by changes in the cells that line the lowest part of the esophagus, which is the tube that carries food from the mouth to the stomach.
This observational study suggests that drinking coffee or tea reduces the risk of BE and inflammation in the esophagus.
---
8. Bone Health
Milk-cereal and whole-grain dietary patterns protect against low bone mineral density among male adolescents and young adults.
This observational study in 1,351 Korean men aged 10–25 showed that a high intake of milk, cereals and whole grains was associated with a higher bone mineral density, possibly reducing their future risk of developing osteoporosis.
---
9. Muscles and Physical Performance
Diet with a combination of high protein and high total antioxidant capacity is strongly associated with low prevalence of frailty among old Japanese women: a multicenter cross-sectional study.
This observational study in 2,108 Japanese women aged 65 and older showed that a high intake of protein and/or antioxidants was associated with a lower risk of frailty.
A combination of both seemed to provide the greatest protection against frailty.
---
10. Arthritis
Dietary intake of fibre and risk of knee osteoarthritis in two US prospective cohorts.Osteoarthritis
is a degenerative joint disease characterized by the breakdown of cartilage in joints. The main symptoms are joint swelling, stiffness and pain.
This observational study in US adults showed that a higher fiber intake was associated with a lower risk of osteoarthritis.
---
11. Inflammation
The association of dietary vitamin C intake with periodontitis among Korean adults: Results from KNHANES â…£.
Periodontitis, or gum disease, is characterized by inflammation in the tissues that surround the teeth. It is caused by a strong immune reaction to the bacteria that live on the teeth.
This observational study in 10,930 Korean adults found that inadequate vitamin C intake was linked to a higher risk of periodontitis.
---
The long-term relationship between dietary pantothenic acid (vitamin B5) intake and C-reactive protein concentration in adults aged 40 years and older.
C-reactive protein
(CRP) is an inflammatory marker. Its levels increase in response to inflammation in the body.
This observational study in 908 South Korean adults aged 40 or older found that a high intake of pantothenic acid (vitamin B5) was associated with lower levels of CRP.
---
The impact of cholecalciferol supplementation on the systemic inflammatory profile: a systematic review and meta-analysis of high-quality randomized controlled trials.
Cholecalciferol, also known as vitamin D3, is a form of vitamin D found in animal fat.
This meta-analysis of controlled studies concluded that cholecalciferol supplements do not appear to affect the levels of the inflammatory markers C-reactive protein (CRP) and interleukin 6 (IL-6).
---
12. Infections and Immune Health
Consumption of Dairy Yogurt Containing Lactobacillus paracasei ssp. paracasei, Bifidobacterium animalis ssp. lactis and Heat-Treated Lactobacillus plantarum Improves Immune Function Including Natural Killer Cell Activity.
This study in 200 adults examined the effects of eating probiotic yogurt every day for three months on immune function. The yogurt contained three probiotics: Lactobacillus paracasei, heat-treated L. plantarum and Bifidobacterium animalis.
The study showed that the probiotic yogurt significantly improved immune function, including natural killer cell activity, compared to those who consumed plain milk.
---
13. Longevity and Healthy Aging
Higher adherence to the 'vegetable-rich' dietary pattern is related to longer telomere length in women.
Telomeres are sequences of DNA at the ends of DNA strands that protect them from fusing with neighboring strands. They naturally shorten with age, but oxidative stress may accelerate their shortening, possibly contributing to aging.
This observational study in 553 Chinese adults found that a high intake of dairy products, eggs, tea, nuts, whole grains, fruits and vegetables was associated with longer telomeres in women, but not men.
---
Caffeine consumption and telomere length in men and women of the National Health and Nutrition Examination Survey (NHANES).
This observational study in 5,826 US adults found that a high caffeine intake was linked to reduced telomere length. Specifically, for every 100 mg of caffeine consumed per day, telomeres were 35.4 base pairs shorter.
However, a high intake of coffee, which is rich in caffeine, was associated with longer telomeres.
---
14. Growth
Vitamin D supplementation and growth in urban Mongol school children: Results from two randomized clinical trials.
This controlled study in vitamin D-deficient school children from Mongolia showed that taking 800 IU of vitamin D3 (cholecalciferol) supplements daily for six months improved their growth.
In contrast, a second study found that drinking milk enriched with 300 IU of vitamin D every day for seven weeks did not significantly affect growth.